July 12, 2010
Today was a very special day for our 6 year old pre-schooler's at New Life! The whole church celebrated with them as they transition from the Kinder Church Ministry to the Main Children's Ministry.
Proverbs 22:6 says "Train up a child the way he should go, and when he is older he won't turn from it."
We have a wonderful Children's Ministry at New Life Church who are dedicated to Establishing our Children in Jesus!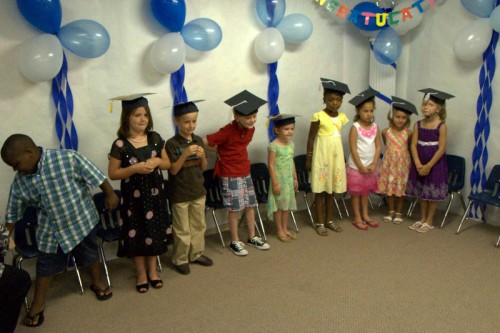 ---
July 10, 2010
"My brethren, count it all joy when ye fall into divers temptations; Knowing this, that the trying of your faith worketh patience. But let patience have her perfect work, that ye may be perfect and entire, wanting nothing." (James 1:2-4 KJV)
There are two definite things the Apostle James tells us to do when we are facing a test or trial.
Count it all joy
The first is in verse two: "count it all joy," or we could say, "keep a good attitude." Notice James doesn't say the test is a joyful occasion, but that we must choose to be joyful. It has been said that in a test your attitude will determine your altitude. This means that your faith will never operate above the level of your attitude.
A good example of counting it all joy and maintaining a good attitude is found in Acts 5:40,41: "And to him they agreed: and when they had called the apostles, and beaten them, they commanded that they should not speak in the name of Jesus, and let them go. And they departed from the presence of the council, rejoicing that they were counted worthy to suffer shame for his name."
I'm sure they didn't feel like rejoicing for a beating, but they chose to put God in charge of their attitude and not the circumstances. I believe if they did it, so can we.
Be patient
The second thing James said to do was to stay patient. He said that patience would give our faith the necessary strength needed to win the battle. Many of us don't understand patience. We think patience means to just sit quietly and wait; however, the Greek definitions give us a much better understanding of the power that is in true biblical patience.
Defining patience
Some keywords to describe patience are: cheerful, hopeful endurance, constancy, and continuance. The Amplified Bible describes patience as having "steadfastness".
The reason we need to maintain a good attitude with patience, cheerfulness, hopeful endurance and steadfastness is that the answer to our prayer—or the manifestation of our faith confession—doesn't always come to us immediately. It is from the moment you set yourself in faith to overcome the test that the true battle begins. The devil attacks your faith because he knows that if your faith is not defeated, he can't defeat you. Thank God for joy and patience! When we put these two powerful forces to work, they lift our faith up just as Aaron and Hur lifted up the arms of Moses.
If you are facing a test, draw from these two powerful truths. Make sure you keep a good attitude and make sure you stay consistent. If you do these two things, you will turn your test into a testimony for the Lord.
---
July 6, 2010
"Train up a child in the way he should go: and when he is old, he will not depart from it." (Proverbs 22:6 KJV)
Our preschool children have been working very hard to memorize all 66 books of the Bible. We decided to put together this video to showcase their hard work for you to enjoy. We are so extremely proud of our entire pre-school ministry team for their energy, effort and time they invest each week into our 4-6 year olds.
---
July 6, 2010
In Mark 11:24 the Lord Jesus teaches us the power that we have in believing prayer.
"Therefore I say unto you, What things soever ye desire, when ye pray, believe that ye receive them, and ye shall have them" (Mark 11:24 KJV).
The Lord gives us some specific instructions in this verse that we must follow if we are to have success.
First, He tells us to get specific in the things we are asking. We cannot just pray in general and expect to receive specific things from God. "Things," mean that we must put some thought in what we are going to ask for. We are to come before God prepared with the very things we want Him to do for us.
Second, we are told that we must believe that we receive these things when we ask for them. We don't receive things or answers just because we pray; we must believe and have faith that God will give us what we are asking. Only those things we really believe will be given to us.
I believe that we are, at this moment, standing at a strategic place of decision and we must be effective and powerful in prayer if we are to go on from here. 1 John 5:14,15 (KJV) says,
"And this is the confidence that we have in him, that, if we ask any thing according to his will, he heareth us: And if we know that he hear us, whatsoever we ask, we know that we have the petitions that we desired of him."
To pray and ask according to God's will is to ask in line with the Word of God. God's Word is His revealed will to us. Anything we ask according to His will, believing, He will bring to pass. I believe the Lord has given me nine specific things to ask and believe Him for and I am asking you to join with me in praying these things into manifestation.

These nine things are:
1. Ask God for first time salvations every week. (1 Timothy 2:4; Psalm 2:8)
2. Ask God for prodigal sons and daughters to come back every week. (Luke 15:17–20)
3. Ask God for Believers to be filled with the Holy Spirit every week. (Acts 2:38,39)
4. Ask God to stir laborers in this church to witness every week. (Matthew 9:37,38)
5. Ask God to establish believers in Christ every week. (Galatians 4:19; Ephesians 4:12–15)
6. Ask God for the manifestation of the gifts of the Spirit. (1 Corinthians 12:31; 1 Corinthians 14:1)
7. Ask God to anoint the ministry staff with anointed messages. (Ephesians 6:19)
8. Ask God to pour out His Spirit on the Tri-State every week. (Isaiah 64:1,2)
9. Ask God to supply every financial need of New Life Church every week. (Philippians 4:19)
---
June 29, 2010
On Father's Day (June 20, 2010), we asked some of the dads at New Life two questions:
Question 1: What did your father teach you?
Question 2: What does being a father mean to you?
Watch this video to see their excellent answers!
You can also watch Father's Day Video 2010 and more on our Vimeo page.
---
June 29, 2010
During the Breakout Sunday service on June 6, 2010, we showed this video of amazing testimonies of God's goodness.
Our God is doing some truly awesome things at New Life Church!
You can also watch How He Loves and more on our Vimeo page.
---
June 18, 2010
Welcome to the all new New Life Church website!
We hope that you'll use this website as a resource to give you an overview of what you will experience when you visit a service at New Life Church. We also hope that you will take some time to look at all of the different ministry opportunities and programs that we offer at New Life for your spiritual growth.
We will use this new "News" feature to post event updates, praise reports, testimonies, videos, articles and more! If you are accustomed to using a blog reader, then you can subscribe with the (Google Reader, Bloglines, or your reader) by clicking the "subscribe by rss" link at the top of this page.
We will continue to add previous church services, both full services and teaching only in video and audio formats in the "Media" section for you as a resource.
The giving link is now at the bottom of each page for you to give online. Currently you are only able to give securely if you have set up a Paypal account. Soon you will be able to give by setting up your very own account through our website which will permit you to give securely with your debit/credit card.
The podcast link is also at the bottom of each page in the links section. Be sure to continue following Pastor Huffman's podcast as we continue to add more free and downloadable teaching resources.
New Life Church is here to ESTABLISH you in your relationship with Jesus, to BUILD your life upon the Word of God, and to EMPOWER you by His Spirit to live victoriously! This website will serve as an important resource to help us build the Kingdom of God!
---
June 9, 2010
Wednesday, June 9 begins 8 weeks of Summer School at New Life Church.
Everyone who attends will receive a special notebook to take notes and each week we will teach on a different topic meant to help you BUILD your life on God's Word. Every believer should have a strong foundation established with God's Word in order to build their Christian life upon.
Here are the 8 Weeks of Classes, their dates and topics:
June 9 – Redemption
June 16 – New Creation Realities
June 23 – The Blood Covenant
June 30 – Exercising Faith
July 7 – Authority of the Believer
July 14 – Exercising Authority
July 21 – Life in the Spirit
July 28 – Receiving the Holy Spirit
If you miss any services then you can catch them online or purchase the CD in the church bookstore. Come ready to grow!
---
June 8, 2010
Sunday, June 6 was a great day at New Life Church!
Here are a few thoughts…
The volunteers at New Life Church were amazing! They were prayed up and ready to serve across every area of ministry.
The opening of the service was absolute Christian rock. We opened up with Solution by Hillsong and the band sounded amazing! The rest of the worship service was excellent. New Life is a church that takes praise and worship seriously!
Sherilyn See sang "How He Loves" beautifully. If you didn't see the testimony video that played during the song, you can watch it here.
Pastor Darrell preached a great message on Breaking Out! Don't let your past without God keep you from living your present with God and possessing your future in God! If you didn't catch the message, you can watch it here.
The altar was full of people making commitments to Christ and allowing God to heal, forgive and restore their lives!
The children's ministry was rocking upstairs! I hear there were purple gorillas and clowns running around with cotton candy!
It was our second largest attendance of 2010 and we had a great number of first time guests. We have a great reason to celebrate! God is moving and something special is happening at New Life!
Many thanks to our awesome volunteers who worked together to make Breakout Sunday a big success.